Future-Proofing
Real Estate Syndication
An all-in-one solution for the present and future of real estate investing.
Powered by best-in-class applications

Syndication 3.0
Leveraging blockchain technology allows us to tokenize real estate assets, solving syndications biggest problems.
Not ready for the future yet? Tokenization is optional. Our software aggregates all the best-in-class features in an all-in-one platform. Scroll down to find out all of our integrated features.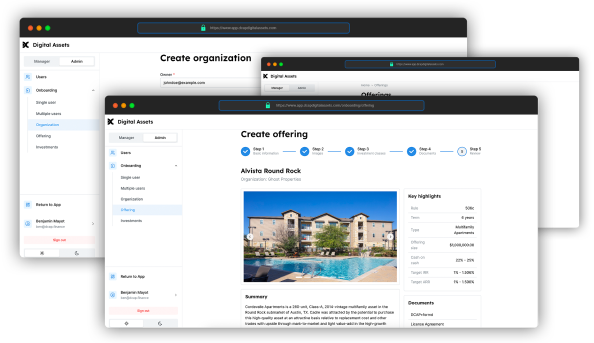 The Complete Toolkit for Syndicators
Tokenization
Digitize the ownership of your assets and unlock boundless liquidity, flexibility and transparency. Abandon your spreadsheets and automate your administrative tasks with fully customizable smart contracts.

Entity creation
Create any entity in all 50 states and bring your investors whether they are individuals, groups or organizations in a few clicks on one platform.

Compliance
Verify your investors' identity and accreditation through our integrated bank-level KYC/AML system on- or off-chain with a syndication optimized flow, making it a smooth process for your investors to submit their information.

Banking
Every syndicator and investor account comes with its own on-platform wallet paired to the bank of their choice where they can set up ACH/Wire transfers and custody.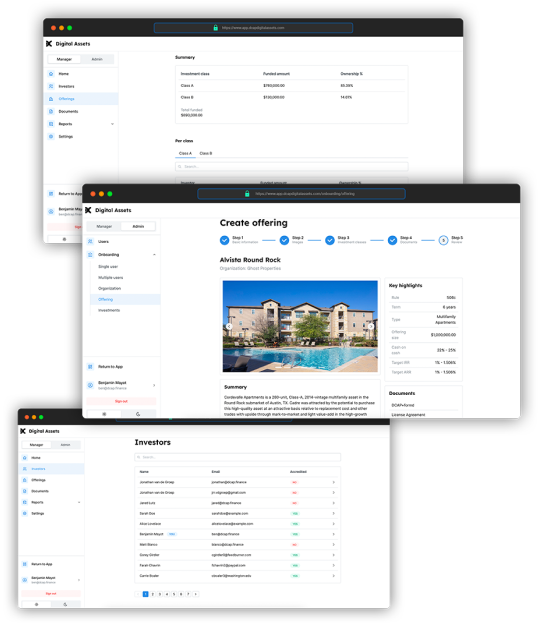 Investor CRM
Lead management, email builder, activity tracking, communication tools, and more. Manage and communicate with your investors with our feature rich CRM.

Investor Reporting
Generate automatic reports that meet industry standards and exceed investors expectations — for funds of any type and investors of any size.

Investor Portal
Investors have their own portal helping them manage their portfolio, communicate with partners and GPs, vote on investment decisions, and more.

Investor Services
Our investor portal offers additional concierge style services to investors for optimal administration support. We offer services such as asset protection, tax optimization, curation of investment opportunities, and more.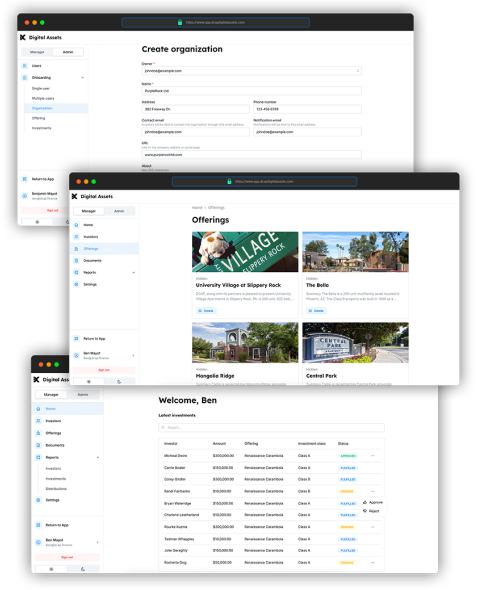 Fundraising
Effortlessly raise more capital with the right tools. We modernized fundraising to help reduce manual work, deliver faster closes, and create a frictionless experience for both your teams and your investment partners.

Treasury Services
Programmatic Payouts and Distributions. Get visibility and control over capital calls and distributions, all within a unified portal, so you can reclaim time and deliver a modern experience to investors.

Fund Accounting Services
Bringing innovative workflows and expert accountants together to keep you and your investment partners up to date on critical fund data, fund financials, and best practices.